Roofing protects the structural integrity of a building, prevents mold and rot, and keeps interiors warm and dry. A well-insulated roof also helps reduce strain on heating and cooling systems, resulting in energy savings.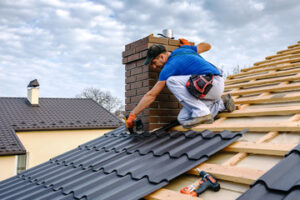 A roof is supported by rafters or trusses that are cut on-site or pre-fabricated in factories and craned into place. It's covered with sheathing – typically felt or plywood.
Shingles are a crucial part of the overall roof system, and they protect a home from wind, rain, sun, and snow. They are designed in an overlapping pattern to provide complete protection for the material beneath them, such as plywood or a vapor barrier. They also add an element of beauty to your home's exterior.
Most homes in America use asphalt shingles, which are the most common roofing materials. The shingle itself is a fiberglass mat coated with an asphaltic compound that resists weather and fire damage. This base is then covered with a variety of mineral granules, which give the shingle its color and texture. Different granules are used for specific purposes: algae-resistant granules help inhibit discoloration from blue-green algae; reflective granules reflect more of the sun's heat energy.
The granules are usually colored using a chemical process, but some shingles have colored granules embedded that don't require chemicals or heating. This gives the shingles an extra element of design and reduces the cost.
Before the shingles are sold, they have to go through a series of quality control tests. The manufacturer must ensure that the shingle is made of the right materials and that it has the proper ratings to be installed on a roof. These ratings are determined by testing labs like Underwriters Laboratories or the American Society for Testing and Materials. The shingles are also tested for durability and resistance to high winds.
Once the shingle passes all of its tests, it can be produced in different styles and colors. Popular styles include three-tab shingles and architectural shingles. Three-tab shingles have cutouts that look like individual shingles, while architectural shingles are thicker and less uniform for a textured appearance.
If you are considering a new roof, I recommend hiring a professional who specializes in your particular type of roofing. This will ensure that the installation is done properly, and it will be covered by a warranty. Also, a roofing professional will know how to recognize problems and issues that can't be seen from the ground.
Some types of roofing, such as wood and slate, require specialized knowledge to install properly and avoid problems with leaking or other structural issues. These should be left to professionals who have apprenticed in the trade and have a great deal of experience with these systems.
Tiles
Tiles are a type of wall and floor covering that come in a wide range of sizes, colors and textures. They are commonly made from hard materials like marble, clay and slate but can also be soft such as wool, cork and recycled paper. Tiles are primarily used in interior spaces but can be found on the exterior of buildings too. They can be glazed or unglazed depending on the desired look and are available in various styles to suit all budgets and tastes.
There are many different types of tiles for roofs, some are specialized to specific climates and others have unique designs that add beauty to the home. Some of the most common include clay tiles, concrete tiles, terra cotta and slate. Each has its own strengths and weaknesses. Clay tiles, often referred to as Spanish tile roofs, are great for warm climates and can be shaped to curve around the house. They can crack when exposed to freezing or thawing temperatures though, so they are not recommended for colder climates. Concrete tiles are more durable but can be quite heavy.
Slate roofs, on the other hand, are considered a luxury item and offer an elegant, classic appearance. They are also very durable and come in a variety of colors and textures. Slate is a metamorphic rock that was also used by ancient civilizations for their roofs. These are very high-quality tiles and therefore very expensive.
Other roofing tiles are made from other natural materials, such as granite and marble. These can be very beautiful but are more difficult to work with than clay or concrete tiles. Because of their irregular shape, they are harder to install correctly and require more maintenance. Some stone tiles are sawn on both sides and polished on the top surface while others are riven, meaning they are left as they are naturally found in nature. They are easier to work with than mass-produced clay or concrete tiles but still require more planning and preparation for use and installation.
Another option for roofs is to use concrete tiles, which are molded with a mixture of sand, cement and water. The concrete is then pressed under heat and pressure to create the tile. These can be made in a flat style that has no curve, or in low and high profile shapes. The concrete can also be painted to mimic other types of roofing, such as wood shake, slate or stone tiles.
Slate
Slate is a natural, sedimentary rock that's been used as a roofing material for centuries. It has many advantages over other types of roofing materials, including its durability and beauty. It's also fireproof and an effective insulator, and it can last for up to 200 years. However, slate can be expensive and requires specialized installation techniques.
Slate roofing is typically made from several different layers of thin, smooth stones that are overlapped to form a solid, watertight surface. These stones may come in a variety of colors and shapes, and they can be cut to size with a slating machine. This allows the roof to be customized to each home. The roof can be designed with multiple pitches, and the eaves may have a smaller or larger pitch than the main part of the roof.
While slate can look beautiful on a roof, it's not suitable for every house. It is very heavy and requires a strong, stable structure to support it. It can also be slippery, which can make it dangerous to walk on. It's also brittle, which can cause damage if someone falls off the roof.
Slate is a fine-grained, foliated metamorphic rock that forms through low-grade regional metamorphism of shale or mudstone. It is a popular roofing material for its durability and beauty, and it has been used for other purposes, such as exterior pavers, billiard tables, and blackboards. The word "slate" may also refer to a small piece of this rock, often framed in wood and used with chalk as a writing slate for recording charges in pubs and inns.
Slate is usually gray in color, but it can be found in a wide range of colors, even within a single quarry. It may also contain micas, chlorite, calcite, feldspar, and pyrite. Slate roofing is very durable and long-lasting, but it can be prone to damage from hail and other environmental factors. It is not recommended for homes with steep slopes because it can be difficult to keep water flowing off the roof and into gutters. It is also prone to cracking from frost damage.
Clay
Whether you're looking for a new roof, or simply want to update the look of your home, clay is a beautiful option. It's long-lasting and durable and can stand up to harsh weather conditions like high winds and hail, which would be damaging to other roofing materials. Clay tiles also offer an earthy color and design that adds character to your home and can be shaped in many different ways.
Clay is a type of soil, which consists of finely divided particles of weathered minerals from rocks and sediments. It is often found in areas where rivers or streams flowed, bringing in minerals, plant and animal remains, and organic matter. Over time, water pressure breaks up these remains and pulverizes them into tiny pieces. These particles form a sticky paste known as clay when moist.
When clay is dried and fired, it becomes hard and brittle. It is a very important material, and the use of clays has been documented worldwide since prehistoric times. Clays are used for ceramics, building construction, fireclay, and a number of other applications. They are found in all geologic environments and can be layered with other minerals and organics, such as coal or peat, to produce pottery ware.
Because of their structure and density, clay tiles can withstand extremely high wind speeds. In fact, they can handle a Class 4 impact rating and are resistant to other outside factors such as rot, fungus, insects and even fire. In addition, they are highly energy efficient and have a low absorption rate of less than 1%, making them the perfect choice for cold climates.
Despite their popularity and wide-ranging uses, clays are rarely characterized by objective criteria. Most datasheets simply list the chemical properties (porosity, soluble salts, fired shrinkage) without giving any quantifiable values such as plasticity or particle size. This is because the chemistry of clays is complicated and involves multiple parameters. However, it is possible to quantify the plasticity of clays by using a simple technique based on the bending deformation of small cylindrical specimens. This method can provide a quantitative baseline value to distinguish between clays and other less plastic materials.