Home » Posts tagged 'roofing contractors'
Tag Archives:
roofing contractors
Roof Replacement Johns Creek involves tearing the old roofing materials off and installing a new one. This allows for a more complete roof inspection and upgrading to more unique and better solutions.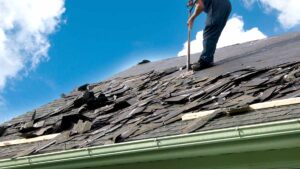 It's essential to keep your roof in good condition as it offers the highest return on investment upon resale. However, deciding whether to re-roof or replace can be difficult.
The cost of roof replacement varies from house to house, but the national average is around $18,000. Many factors influence the price, including the size of the roof and the materials used. However, homeowners can control some of these costs by preparing for their home project before hiring contractors.
The bulk of the cost goes toward labor and materials. On average, homeowners can expect to pay $2 per square foot for labor. This includes removing the existing roof and making any necessary repairs. The cost can also increase depending on the pitch of the roof. Steep roofs are more difficult and dangerous to work on, so they tend to cost more than flat roofs.
When comparing quotes from different roofing professionals, be sure to compare the prices of similar materials and features. For example, some contractors may include ice and water shield underlayment while others will not. This material protects against leaks and moisture, so it's a must-have for any new roof. Other costs to consider include the type of roofing material and any specialized features such as dormer windows, chimneys, or skylights. These elements require custom flashing and may require additional labor to install.
Some homeowners may decide to replace only the damaged section of their roof instead of the entire roof. This can be a great option for those who need to save money up front or for those who want to sell their home in the future. However, it's important to remember that patched and repaired sections can affect the resale value of a home. If buyers notice that a roof has been repaired in multiple locations, they might assume that the rest of the roof is damaged as well.
Depending on the amount of equity in the home, homeowners can also choose to borrow against their mortgage balance to pay for a new roof. This is typically a higher-interest option, but it may be more affordable than taking out a personal loan. Homeowners should carefully review the terms and conditions of any loans before choosing this route.
Some homeowner's insurance policies cover roof damage, so homeowners can check with their agent to see if they are eligible for coverage. If not, a warranty from the roofing contractor can help offset some of the costs. The cost of a warranty usually ranges from $500 to $2,000 and often includes yearly inspections and minor repair work.
Materials
Replacing your roof is a significant investment in your home. You want to make sure that you are using a high quality roofing material and that it will last as long as possible. This will help to protect your home and increase its value if you decide to sell it in the future.
One of the most common roofing materials is asphalt shingles. These are available in a variety of styles and colors and come with a warranty from the manufacturer. Metal roofing is another option that has been increasing in popularity. It is a durable roofing solution and can withstand hail and other weather events. Metal roofs are available in shake or shingle style and have been known to last 30 to 50 years.
If you are considering a do-it-yourself roofing project, you should have the following tools:
A hammer and nail gun to fasten the shingles, a utility knife for cutting the underlayment, a chalk line to create a straight line along the rooftop and a rake to remove any loose debris that might be present. You will also need plywood or oriented strand board for the decking of your new roof. You may also wish to purchase a roll of underlayment, which will provide a second layer of protection against water damage. This can be purchased from your local hardware store.
A slate tile roof is expensive but very durable and can last for 100 to 150 years or more. It is fireproof and resistant to high winds and extreme temperatures. You can choose from natural slate or a synthetic alternative, which is lighter in weight but has many of the same benefits.
Installation
Roof replacement involves the removal of old shingles and felt paper or moisture barrier and replacing them with new materials. It also includes the repair of any damage to the deck or any other part of your home's structure that is revealed during the process.
During the installation of your new roof, the contractor will remove your old shingles and tear off any existing gutters. They'll then cover your yard and shrubs with tarps to protect them from debris. They'll also use tarps under the edges of your roof where it meets your home to keep water from getting into the interior of your house.
They'll start at the farthest corner of your roof and work their way across, tossing old shingles into a dump trailer each time they complete a section. This saves on labor costs and prevents the need for them to return later to pick up the remaining shingles. When the contractors are done tearing off your roof, they'll install new flashing around chimneys, wood stove pipes, vents and certain other areas that are prone to leaks. They'll also put down ice and water barriers at the eaves and along valleys and roof slopes. They'll also apply roofing cement to seal the flashing and other leak-prone areas.
The type of roof you have can impact the price of a roof replacement. Different roof shapes require different installation considerations, as well as different materials and installation methods. For example, a flat roof has different requirements than a gable or hipped roof.
Your roof's features can add to the cost of a replacement as well. Chimneys, skylights and dormer windows all require special materials and extra flashing that can increase the price of a roof replacement.
If insurance won't cover the cost of a new roof or your manufacturer warranty has expired, you can finance your new roof through a personal loan or home equity line of credit. These options are typically less risky than borrowing against your mortgage and have lower interest rates.
Before your roofing contractors arrive, make sure you clear the attic and store any sentimental or fragile items to avoid having them damaged during the roofing process. It's also wise to lay tarps or painter's drop sheets in the attic to protect the floor and make clean up easier. You should also talk to your neighbors about the project so they're prepared for noise and other inconveniences. If you warn them ahead of time, they'll be more co-operative the day of your roof replacement.
Warranty
A roof warranty is one of the most important parts of a roofing project. It ensures that your new roof is a good investment. A typical manufacturer's material warranty will cover the cost of replacement if any roofing materials are found to be defective, and can last up to 50 years or more. Many manufacturers offer an enhanced warranty that will also cover labor and workmanship. However, these warranties tend to cost more and are limited in scope.
If you are considering a manufacturer's material warranty, you should make sure to read the fine print carefully. Some warranties are limited to only the shingles or metal and exclude any underlying roof components, including underlayment, flashings, vents, and other elements that make up the entire roofing system. Others are more comprehensive and allow for a complete roof replacement if any of the main roof components fail, but exclude hard-to-replace auxiliary materials.
In addition to the manufacturer's warranty, you should also consider a contractor's workmanship guarantee. Most manufacturers will only honor their warranties if the work is performed by a contractor who is certified to install their products. This means that the contractor must be registered with the manufacturer, and the manufacturer should have a list of qualified contractors.
During your search for a quality roofing contractor, look for a company with extensive experience and excellent customer service. Often, these companies will be able to provide detailed information about the products and installation methods they use. In addition, they will have a large portfolio of satisfied customers.
It is also a good idea to choose a roofing specialist rather than a general contractor or jack of all trades. In general, roofing specialists will have a greater understanding of the roof and its structure, and will be more likely to provide a comprehensive warranty. Additionally, a roofing specialist will be able to answer any questions you may have about the warranty. Most importantly, it will be much easier to file a claim if you have a roofing specialist on your side.