Replacing residential roofing is a great opportunity for homeowners to make their homes more eco-friendly. The right roof materials can help reduce energy costs, lower air conditioning consumption, and reduce environmental emissions.
Green or living roofs are a popular sustainable roofing option that is also highly decorative. They act as natural insulation, absorb rainwater, and can even reduce the heat island effect in urban areas. For more information, consult a qualified Allen Roofing Company.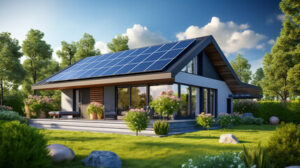 Cool Roofs
Roofing is often an afterthought in the planning and construction of sustainable homes, but it can play a major role in reducing the carbon footprint of a home. New roofing materials are becoming more and more energy efficient, providing homeowners with a green alternative to traditional roofs.
One of the most popular options for a green roofing system is the cool roof. Cool roofs are made of a mixture of white glue and gravel that reflect the sun's rays, lowering the surface temperature of the roof. This allows the rest of the house to stay cooler, which cuts down on air conditioning usage and electricity bills.
A cool roof is also durable and has a long lifespan, cutting down on repair and replacement costs. In addition, cool roofs can be installed with solar panels, making them even more energy-efficient. These eco-friendly roofs are great for both residential and commercial buildings and are especially effective in warm climates.
There are many different types of cool roofs, varying in size and structure, so there is something for everyone. Some are designed for flat or low-sloped buildings, while others are suitable for steep-sloped roofs. They can be combined with green roofs to create a complete energy-efficient system, which helps reduce greenhouse gas emissions and energy use.
Metal roofs are another green option for a home or business. They tend to be more energy-efficient than other roofing types, and they can be insulated to further reduce heating and cooling costs. In addition, they are highly durable and long-lasting, which makes them a great investment.
Wooden shingle roofs are another eco-friendly option for a home or business. They are more durable than traditional shingles and can last for up to 50 years. They are also resistant to fire, mold, and moss, which helps to prevent damage. They are also easy to maintain, requiring very little work to keep them looking good.
There are many other ways to make a building more sustainable, including insulating it and installing a solar array. The next time you need to replace your roof, consider using a green roofing material. This is a water-based, low-odor elastomer sealer that works as a seam and joint sealant for new and old heating and air conditioning ducts, and for sealing metal and asphalt shingle roofs. It is available in a variety of sizes and can be applied by brush or spray.
Metal Roofs
Metal roofs can be made of a variety of metal alloys and are one of the most durable roofing materials. Unlike asphalt roofs, they don't require regular replacement. This means less waste and a longer lifespan for your home. They are energy efficient, too, as they reflect sunlight rather than absorbing it. This helps keep your house cooler, reducing the amount of electricity you use for air conditioning. Plus, they are fire-resistant and have a low impact on the environment.
A downside to metal roofs is that they can be noisy during rain and hail. In addition, if your metal roof is not properly insulated, the bare metal will conduct heat into your living area. In addition, if you live in an area where heavy snowfall occurs, your roof can be susceptible to denting and damage.
Clay tiles, also known as terra cotta roofs, are another eco-friendly option for your home. This type of roof is a green roof in disguise, as it's an old technology. Clay tiles are made from natural clay, which is molded and burned to produce an attractive tile with unique glazes or paints. Although they are a sustainable option, they do require significant amounts of energy to make.
Often called "living" roofs, green or vegetative roofs are an ideal choice for nature lovers. These types of roofs help nurture and sustain plant life while providing a safe habitat for birds and insects. They can even be designed to purify water by removing pollutants and reducing the load on sewer systems.
Another popular green roofing trend is solar panels. These are a great way to cut your energy costs and reduce your dependence on fossil fuels. Most solar roofs are equipped with built-in monitoring software that allows you to track your energy consumption and goals.
Another popular choice for an eco-friendly roof is a shingle roof. A company offers a synthetic shingle that is an excellent alternative to wood. These shingles are highly durable and long-lasting, fire-resistant, and mold- and mildew-resistant. Additionally, shingle roofs can be a good source of insulation and are recyclable at the end of their lifetime.
Clay Roofs
If you're building a home from scratch or looking to upgrade your existing residence to a greener home, consider these eco-friendly roofing options. These types of roofs offer a wide variety of benefits, including insulation, energy efficiency, and beautiful aesthetics.
A popular choice is a cool roof, which uses a layer of white paint to reflect the sun's rays and reduce heat in the home. This is a great option for warm climates and can help you save on your electric bill by cutting down on air conditioning use. Another type of cool roof is a metal roof, which can be made from recycled material or new materials. They are highly durable and can last for a long time.
Another type of eco-friendly roof is a clay tile roof. These roofs are made from natural materials and come in a variety of colors and styles to match your home's design. They are also fire-resistant and can withstand extreme weather conditions. However, clay tiles require regular maintenance to keep them in good condition. They must be inspected by a roofing professional for signs of moss, mildew, and other damage. If you can find clay tiles that are made from recycled materials, this can make your roof even more sustainable.
Wood shakes and shingles are a great eco-friendly roofing option, as they can be harvested without harming the tree's ability to grow. However, this only applies if the wood is harvested sustainably and if the shakes and shingles are made from certified wood. These shingles and shakes are moderately durable and can last for decades.
A green roof is a sustainable roofing option that uses the space on your roof to plant grass or other plants. This can provide natural insulation, cut down on water run-off, and provide a habitat for birds and insects. The plants on a green roof can also sequester carbon from the atmosphere, making it an environmentally responsible and attractive roofing option.
A green roof is a sustainable roofing option with a high return on investment. It requires a lot of maintenance, but it can save you money on your energy bills, reduce water run-off, and sequester carbon from the atmosphere. A green roof can also enhance the look of your home and serve as a recreational area.
Wooden Shingle Roofs
For homeowners looking for an eco-friendly roofing option with a classic look, wooden shingles may be the right choice. This natural material is harvested from trees without harming them and regenerates quickly. It's also a lightweight option that uses less energy to transport and install than other roofing materials. Additionally, wood shingles are recyclable and can be used in other home projects.
Metal roofs are another popular eco-friendly roofing choice known for their durability and energy efficiency. They can last 50 years or more, and reflect heat, reducing the need for air conditioning and lowering your energy costs. These roofs are also resistant to fire, mildew, and insects. Many homeowners enjoy the sleek appearance of metal roofs, which work well with a variety of architectural styles.
A clay tile roof is another sustainable roofing option that has been around for hundreds of years. Made from a natural clay material, this type of roof is durable and can be recycled. However, it can be more expensive than other roofing materials and needs special care to keep it from leaking.
Another alternative to a traditional roof is a green roof, which is an organic and eco-friendly way to protect your home. This roofing system allows you to grow plants on your roof that help with water runoff, reduce carbon dioxide in the atmosphere, and provide a habitat for native birds and insects. If you choose to go with this roofing option, be sure to have it properly installed by a professional to avoid damage.
One of the most popular and innovative ways to use your roof is a solar roof. This type of roofing can produce electricity to significantly reduce your reliance on fossil fuels and other non-renewable energy sources. This type of roof can be integrated with any of the above-mentioned roofing materials, making it a great option for environmentally conscious homeowners.
For a more traditional and budget-friendly roof, a cedar shake or shingle roof is an excellent option. This kind of roof is made from sustainably sourced Eastern white cedar, which can be harvested without harming the tree's ability to regenerate. It is also an extremely durable roofing option, and it can withstand hurricanes, heavy rains, hail storms, and even snowstorms.