Home » Posts tagged 'roofing company'
Tag Archives:
roofing company
Roof Replacement Johns Creek involves tearing the old roofing materials off and installing a new one. This allows for a more complete roof inspection and upgrading to more unique and better solutions.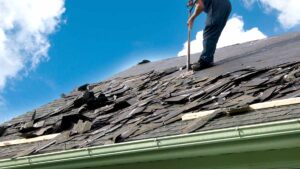 It's essential to keep your roof in good condition as it offers the highest return on investment upon resale. However, deciding whether to re-roof or replace can be difficult.
The cost of roof replacement varies from house to house, but the national average is around $18,000. Many factors influence the price, including the size of the roof and the materials used. However, homeowners can control some of these costs by preparing for their home project before hiring contractors.
The bulk of the cost goes toward labor and materials. On average, homeowners can expect to pay $2 per square foot for labor. This includes removing the existing roof and making any necessary repairs. The cost can also increase depending on the pitch of the roof. Steep roofs are more difficult and dangerous to work on, so they tend to cost more than flat roofs.
When comparing quotes from different roofing professionals, be sure to compare the prices of similar materials and features. For example, some contractors may include ice and water shield underlayment while others will not. This material protects against leaks and moisture, so it's a must-have for any new roof. Other costs to consider include the type of roofing material and any specialized features such as dormer windows, chimneys, or skylights. These elements require custom flashing and may require additional labor to install.
Some homeowners may decide to replace only the damaged section of their roof instead of the entire roof. This can be a great option for those who need to save money up front or for those who want to sell their home in the future. However, it's important to remember that patched and repaired sections can affect the resale value of a home. If buyers notice that a roof has been repaired in multiple locations, they might assume that the rest of the roof is damaged as well.
Depending on the amount of equity in the home, homeowners can also choose to borrow against their mortgage balance to pay for a new roof. This is typically a higher-interest option, but it may be more affordable than taking out a personal loan. Homeowners should carefully review the terms and conditions of any loans before choosing this route.
Some homeowner's insurance policies cover roof damage, so homeowners can check with their agent to see if they are eligible for coverage. If not, a warranty from the roofing contractor can help offset some of the costs. The cost of a warranty usually ranges from $500 to $2,000 and often includes yearly inspections and minor repair work.
Materials
Replacing your roof is a significant investment in your home. You want to make sure that you are using a high quality roofing material and that it will last as long as possible. This will help to protect your home and increase its value if you decide to sell it in the future.
One of the most common roofing materials is asphalt shingles. These are available in a variety of styles and colors and come with a warranty from the manufacturer. Metal roofing is another option that has been increasing in popularity. It is a durable roofing solution and can withstand hail and other weather events. Metal roofs are available in shake or shingle style and have been known to last 30 to 50 years.
If you are considering a do-it-yourself roofing project, you should have the following tools:
A hammer and nail gun to fasten the shingles, a utility knife for cutting the underlayment, a chalk line to create a straight line along the rooftop and a rake to remove any loose debris that might be present. You will also need plywood or oriented strand board for the decking of your new roof. You may also wish to purchase a roll of underlayment, which will provide a second layer of protection against water damage. This can be purchased from your local hardware store.
A slate tile roof is expensive but very durable and can last for 100 to 150 years or more. It is fireproof and resistant to high winds and extreme temperatures. You can choose from natural slate or a synthetic alternative, which is lighter in weight but has many of the same benefits.
Installation
Roof replacement involves the removal of old shingles and felt paper or moisture barrier and replacing them with new materials. It also includes the repair of any damage to the deck or any other part of your home's structure that is revealed during the process.
During the installation of your new roof, the contractor will remove your old shingles and tear off any existing gutters. They'll then cover your yard and shrubs with tarps to protect them from debris. They'll also use tarps under the edges of your roof where it meets your home to keep water from getting into the interior of your house.
They'll start at the farthest corner of your roof and work their way across, tossing old shingles into a dump trailer each time they complete a section. This saves on labor costs and prevents the need for them to return later to pick up the remaining shingles. When the contractors are done tearing off your roof, they'll install new flashing around chimneys, wood stove pipes, vents and certain other areas that are prone to leaks. They'll also put down ice and water barriers at the eaves and along valleys and roof slopes. They'll also apply roofing cement to seal the flashing and other leak-prone areas.
The type of roof you have can impact the price of a roof replacement. Different roof shapes require different installation considerations, as well as different materials and installation methods. For example, a flat roof has different requirements than a gable or hipped roof.
Your roof's features can add to the cost of a replacement as well. Chimneys, skylights and dormer windows all require special materials and extra flashing that can increase the price of a roof replacement.
If insurance won't cover the cost of a new roof or your manufacturer warranty has expired, you can finance your new roof through a personal loan or home equity line of credit. These options are typically less risky than borrowing against your mortgage and have lower interest rates.
Before your roofing contractors arrive, make sure you clear the attic and store any sentimental or fragile items to avoid having them damaged during the roofing process. It's also wise to lay tarps or painter's drop sheets in the attic to protect the floor and make clean up easier. You should also talk to your neighbors about the project so they're prepared for noise and other inconveniences. If you warn them ahead of time, they'll be more co-operative the day of your roof replacement.
Warranty
A roof warranty is one of the most important parts of a roofing project. It ensures that your new roof is a good investment. A typical manufacturer's material warranty will cover the cost of replacement if any roofing materials are found to be defective, and can last up to 50 years or more. Many manufacturers offer an enhanced warranty that will also cover labor and workmanship. However, these warranties tend to cost more and are limited in scope.
If you are considering a manufacturer's material warranty, you should make sure to read the fine print carefully. Some warranties are limited to only the shingles or metal and exclude any underlying roof components, including underlayment, flashings, vents, and other elements that make up the entire roofing system. Others are more comprehensive and allow for a complete roof replacement if any of the main roof components fail, but exclude hard-to-replace auxiliary materials.
In addition to the manufacturer's warranty, you should also consider a contractor's workmanship guarantee. Most manufacturers will only honor their warranties if the work is performed by a contractor who is certified to install their products. This means that the contractor must be registered with the manufacturer, and the manufacturer should have a list of qualified contractors.
During your search for a quality roofing contractor, look for a company with extensive experience and excellent customer service. Often, these companies will be able to provide detailed information about the products and installation methods they use. In addition, they will have a large portfolio of satisfied customers.
It is also a good idea to choose a roofing specialist rather than a general contractor or jack of all trades. In general, roofing specialists will have a greater understanding of the roof and its structure, and will be more likely to provide a comprehensive warranty. Additionally, a roofing specialist will be able to answer any questions you may have about the warranty. Most importantly, it will be much easier to file a claim if you have a roofing specialist on your side.
Replacing residential roofing is a great opportunity for homeowners to make their homes more eco-friendly. The right roof materials can help reduce energy costs, lower air conditioning consumption, and reduce environmental emissions.
Green or living roofs are a popular sustainable roofing option that is also highly decorative. They act as natural insulation, absorb rainwater, and can even reduce the heat island effect in urban areas. For more information, consult a qualified Allen Roofing Company.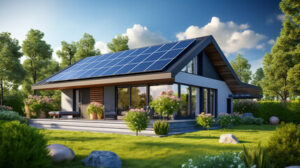 Cool Roofs
Roofing is often an afterthought in the planning and construction of sustainable homes, but it can play a major role in reducing the carbon footprint of a home. New roofing materials are becoming more and more energy efficient, providing homeowners with a green alternative to traditional roofs.
One of the most popular options for a green roofing system is the cool roof. Cool roofs are made of a mixture of white glue and gravel that reflect the sun's rays, lowering the surface temperature of the roof. This allows the rest of the house to stay cooler, which cuts down on air conditioning usage and electricity bills.
A cool roof is also durable and has a long lifespan, cutting down on repair and replacement costs. In addition, cool roofs can be installed with solar panels, making them even more energy-efficient. These eco-friendly roofs are great for both residential and commercial buildings and are especially effective in warm climates.
There are many different types of cool roofs, varying in size and structure, so there is something for everyone. Some are designed for flat or low-sloped buildings, while others are suitable for steep-sloped roofs. They can be combined with green roofs to create a complete energy-efficient system, which helps reduce greenhouse gas emissions and energy use.
Metal roofs are another green option for a home or business. They tend to be more energy-efficient than other roofing types, and they can be insulated to further reduce heating and cooling costs. In addition, they are highly durable and long-lasting, which makes them a great investment.
Wooden shingle roofs are another eco-friendly option for a home or business. They are more durable than traditional shingles and can last for up to 50 years. They are also resistant to fire, mold, and moss, which helps to prevent damage. They are also easy to maintain, requiring very little work to keep them looking good.
There are many other ways to make a building more sustainable, including insulating it and installing a solar array. The next time you need to replace your roof, consider using a green roofing material. This is a water-based, low-odor elastomer sealer that works as a seam and joint sealant for new and old heating and air conditioning ducts, and for sealing metal and asphalt shingle roofs. It is available in a variety of sizes and can be applied by brush or spray.
Metal Roofs
Metal roofs can be made of a variety of metal alloys and are one of the most durable roofing materials. Unlike asphalt roofs, they don't require regular replacement. This means less waste and a longer lifespan for your home. They are energy efficient, too, as they reflect sunlight rather than absorbing it. This helps keep your house cooler, reducing the amount of electricity you use for air conditioning. Plus, they are fire-resistant and have a low impact on the environment.
A downside to metal roofs is that they can be noisy during rain and hail. In addition, if your metal roof is not properly insulated, the bare metal will conduct heat into your living area. In addition, if you live in an area where heavy snowfall occurs, your roof can be susceptible to denting and damage.
Clay tiles, also known as terra cotta roofs, are another eco-friendly option for your home. This type of roof is a green roof in disguise, as it's an old technology. Clay tiles are made from natural clay, which is molded and burned to produce an attractive tile with unique glazes or paints. Although they are a sustainable option, they do require significant amounts of energy to make.
Often called "living" roofs, green or vegetative roofs are an ideal choice for nature lovers. These types of roofs help nurture and sustain plant life while providing a safe habitat for birds and insects. They can even be designed to purify water by removing pollutants and reducing the load on sewer systems.
Another popular green roofing trend is solar panels. These are a great way to cut your energy costs and reduce your dependence on fossil fuels. Most solar roofs are equipped with built-in monitoring software that allows you to track your energy consumption and goals.
Another popular choice for an eco-friendly roof is a shingle roof. A company offers a synthetic shingle that is an excellent alternative to wood. These shingles are highly durable and long-lasting, fire-resistant, and mold- and mildew-resistant. Additionally, shingle roofs can be a good source of insulation and are recyclable at the end of their lifetime.
Clay Roofs
If you're building a home from scratch or looking to upgrade your existing residence to a greener home, consider these eco-friendly roofing options. These types of roofs offer a wide variety of benefits, including insulation, energy efficiency, and beautiful aesthetics.
A popular choice is a cool roof, which uses a layer of white paint to reflect the sun's rays and reduce heat in the home. This is a great option for warm climates and can help you save on your electric bill by cutting down on air conditioning use. Another type of cool roof is a metal roof, which can be made from recycled material or new materials. They are highly durable and can last for a long time.
Another type of eco-friendly roof is a clay tile roof. These roofs are made from natural materials and come in a variety of colors and styles to match your home's design. They are also fire-resistant and can withstand extreme weather conditions. However, clay tiles require regular maintenance to keep them in good condition. They must be inspected by a roofing professional for signs of moss, mildew, and other damage. If you can find clay tiles that are made from recycled materials, this can make your roof even more sustainable.
Wood shakes and shingles are a great eco-friendly roofing option, as they can be harvested without harming the tree's ability to grow. However, this only applies if the wood is harvested sustainably and if the shakes and shingles are made from certified wood. These shingles and shakes are moderately durable and can last for decades.
A green roof is a sustainable roofing option that uses the space on your roof to plant grass or other plants. This can provide natural insulation, cut down on water run-off, and provide a habitat for birds and insects. The plants on a green roof can also sequester carbon from the atmosphere, making it an environmentally responsible and attractive roofing option.
A green roof is a sustainable roofing option with a high return on investment. It requires a lot of maintenance, but it can save you money on your energy bills, reduce water run-off, and sequester carbon from the atmosphere. A green roof can also enhance the look of your home and serve as a recreational area.
Wooden Shingle Roofs
For homeowners looking for an eco-friendly roofing option with a classic look, wooden shingles may be the right choice. This natural material is harvested from trees without harming them and regenerates quickly. It's also a lightweight option that uses less energy to transport and install than other roofing materials. Additionally, wood shingles are recyclable and can be used in other home projects.
Metal roofs are another popular eco-friendly roofing choice known for their durability and energy efficiency. They can last 50 years or more, and reflect heat, reducing the need for air conditioning and lowering your energy costs. These roofs are also resistant to fire, mildew, and insects. Many homeowners enjoy the sleek appearance of metal roofs, which work well with a variety of architectural styles.
A clay tile roof is another sustainable roofing option that has been around for hundreds of years. Made from a natural clay material, this type of roof is durable and can be recycled. However, it can be more expensive than other roofing materials and needs special care to keep it from leaking.
Another alternative to a traditional roof is a green roof, which is an organic and eco-friendly way to protect your home. This roofing system allows you to grow plants on your roof that help with water runoff, reduce carbon dioxide in the atmosphere, and provide a habitat for native birds and insects. If you choose to go with this roofing option, be sure to have it properly installed by a professional to avoid damage.
One of the most popular and innovative ways to use your roof is a solar roof. This type of roofing can produce electricity to significantly reduce your reliance on fossil fuels and other non-renewable energy sources. This type of roof can be integrated with any of the above-mentioned roofing materials, making it a great option for environmentally conscious homeowners.
For a more traditional and budget-friendly roof, a cedar shake or shingle roof is an excellent option. This kind of roof is made from sustainably sourced Eastern white cedar, which can be harvested without harming the tree's ability to regenerate. It is also an extremely durable roofing option, and it can withstand hurricanes, heavy rains, hail storms, and even snowstorms.
Keeping safety precautions in mind while working on roofs is essential to ensure that the job gets done quickly and efficiently. This includes preparing the work area, clearing debris and obstacles, and securing materials and tools.
It's also important to maintain three points of contact with the roof surface at all times. This means having both feet and one hand on the ladder. For your roofing needs, contact Roofing Companies Temple TX today!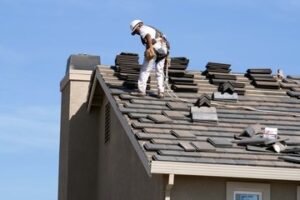 Ladder Safety
Ladders are a critical tool for any professional tradesperson who works on roofs, but they can be dangerous if not used properly. Hundreds of people are injured each year by ladder accidents, most of which are preventable with the proper maintenance and safety precautions.
When using ladders, always read and follow the instructions. Avoid overloading a ladder, and never use it in an area with electrical hazards such as power lines. Look up before handling a ladder, and always maintain three points of contact when climbing (two hands and one foot or two feet and one hand).
Ladders should be regularly inspected for defects. This includes checking the feet of the ladder, which are designed to grip the ground and prevent slipping, and the rungs for cracking, wear, and other problems that could lead to instability or falling off. The ladder should also be inspected for loose screws, bolts, or rivets that can cause problems and should be tightened. If the ladder has optional accessories like stabilizers, these should be inspected as well. They should be in good working condition, and any that are worn or damaged should be replaced as recommended by the manufacturer.
The most common cause of ladder accidents is human error, and this can be prevented by taking the necessary safety precautions when using a ladder. Whether it's choosing the right ladder for the job, inspecting it before climbing, or knowing how to set it up safely, these simple steps can save lives and reduce injuries.
If you're a homeowner or a professional tradesperson, it's important to take the time to understand and practice ladder safety, as these precautions can protect you from injury and save you money by reducing the number of ladder-related repairs or replacements. By following these tips, you can ensure your ladder is safe to use and that it's ready to help you complete your next roofing project. Remember, the most important part of a ladder isn't its length or structure – it's the distance that a worker falls during a fall that matters!
Fall Protection
Falling from a roof is not just a potentially deadly injury, but also an economic liability. If a worker falls, he or she must take time off work to recover, which means a loss of productivity and revenue. In addition, medical bills and legal fees are costly. For these reasons, a comprehensive safety program is crucial for any business that does roofing.
While many contractors understand the importance of following proper safety precautions, some may view implementing these measures as an obstacle to productivity and profitability. The act of climbing up and down to fasten harnesses or install guardrails can certainly slow down the rhythm of a job. However, that momentary delay is insignificant compared to the long-term effects of a free fall from a roof.
Facility and maintenance managers need to plan for these risks before beginning roof repairs or installations on commercial buildings. They should conduct a risk assessment and choose the right equipment. They should also ensure that technicians receive appropriate training and are fully aware of the responsibilities and obligations of the equipment they use.
A wide range of fall protection systems is available for roofers to protect them from falling hazards. Examples of these include mobile 360 guardrails, safety net systems, self-retracting lifelines, and a variety of other options. These devices provide a dependable anchor point to attach workers' harnesses, stopping them from hitting a lower surface when they fall. If it is infeasible to use these systems or they present a hazard, then a detailed alternative fall protection plan should be developed and followed.
Additionally, workers must always be on the lookout for tripping and slipping hazards when working on a roof. Air hoses and power cords for nail guns, as well as discarded equipment, can create dangerous trip points. Organizing these items as they are removed and staging new materials in safe locations will eliminate this danger.
A well-planned rooftop safety program can help prevent falls that lead to costly injuries and legal situations. A single slip-up or rushed decision could have devastating results for a worker, his or her family, and the company. By planning for these risks and implementing the right equipment, facilities managers can improve front-line workers' job performance while simultaneously reducing their liability risks.
Personal Protective Equipment (PPE)
Personal protective equipment (PPE) includes a variety of items worn by workers to minimize exposure to hazards. These include clothing, eye and ear protection, breathing equipment, and gloves. PPE must be correctly fitted and maintained to provide the protection it was designed for. It imposes a barrier between the worker and their working environment and can be physically taxing on the body. This can cause discomfort, which discourages wearers from using it and could result in injury or ill health.
When used correctly, PPE prevents the spread of infection. In hospital settings, for example, it can protect patients who have compromised immune systems from being exposed to infectious materials. It can also help prevent the spread of viral and bacterial contaminants from blood, body fluids, or respiratory secretions.
It is important to identify hazards and conduct a risk assessment before implementing a PPE program. A thorough risk assessment will look at work practices, job procedures, equipment, plant layout, and individual factors. It should also examine the different types of potential hazards. Some hazards may require more than one type of PPE. For example, working with chlorine requires skin and respiratory protection because it irritates the skin and mucous membranes. Reviewing safety data sheets and conducting a workplace trial help choose the appropriate PPE.
Once the appropriate PPE has been chosen, it should be inspected regularly to ensure it is fit for use. Inspecting PPE includes evaluating the fit, ensuring that it is clean and in good repair, and checking that it meets manufacturer specifications and that it is stored properly. Regular inspections should be conducted by the person responsible for purchasing, inspecting, and maintaining the PPE or a designated employee.
The PPE program must be an integral part of a comprehensive hazard control program. It should involve management, safety and medical personnel, supervisors, a health and safety committee, or individuals and suppliers of the PPE. Training should be provided regularly, and re-evaluation of the program should take place on an ongoing basis. PPE should never be seen as a substitute for eliminating or controlling the hazard itself.
Working on Roofs
Working on roofs can be extremely dangerous if you don't take the proper precautions. Even the smallest mistake could lead to a serious accident, such as falling off of the roof because you were wearing your pants too loose and caught them on the ladder or you tripped over a nail that was sticking out of the roof surface.
In addition to providing fall protection, employers should provide a safe work plan, designate a safety monitor, and ensure that workers understand their tasks, responsibilities, and safety protocols. They should also encourage collaboration and teamwork to ensure that work is being done efficiently, correctly, and safely. Regular check-ins are an excellent way to keep track of any issues or potential hazards and identify the need for additional safety precautions.
Another important aspect of workplace safety on roofs is ensuring that the work area is clear and unobstructed. This includes removing any objects that may be in the way, such as furniture, equipment, or debris. It is essential to also block off the work zone from passersby so that they do not inadvertently encounter any hazards. It is also important to remove any tripping hazards, such as loose ladder legs or stray tools that could cause people to trip and fall. In addition, all workers should be aware of any electrical hazards and should use non-conductive equipment when working near electricity.
Ideally, all roofing accidents can be prevented through common sense and the implementation of workplace best practices. However, there are some situations where this is simply not possible and edge protection must be provided to isolate workers from the risk of falling off a roof. This can include short-duration works such as repairs and inspections that only last minutes, but should still be considered during the risk assessment process. Other forms of isolation can be achieved through the use of restraint systems, work positioning systems, safety nets, or safety mesh. Lastly, all workers should be trained in emergency preparedness and know what to do in the event of an incident or near-miss.